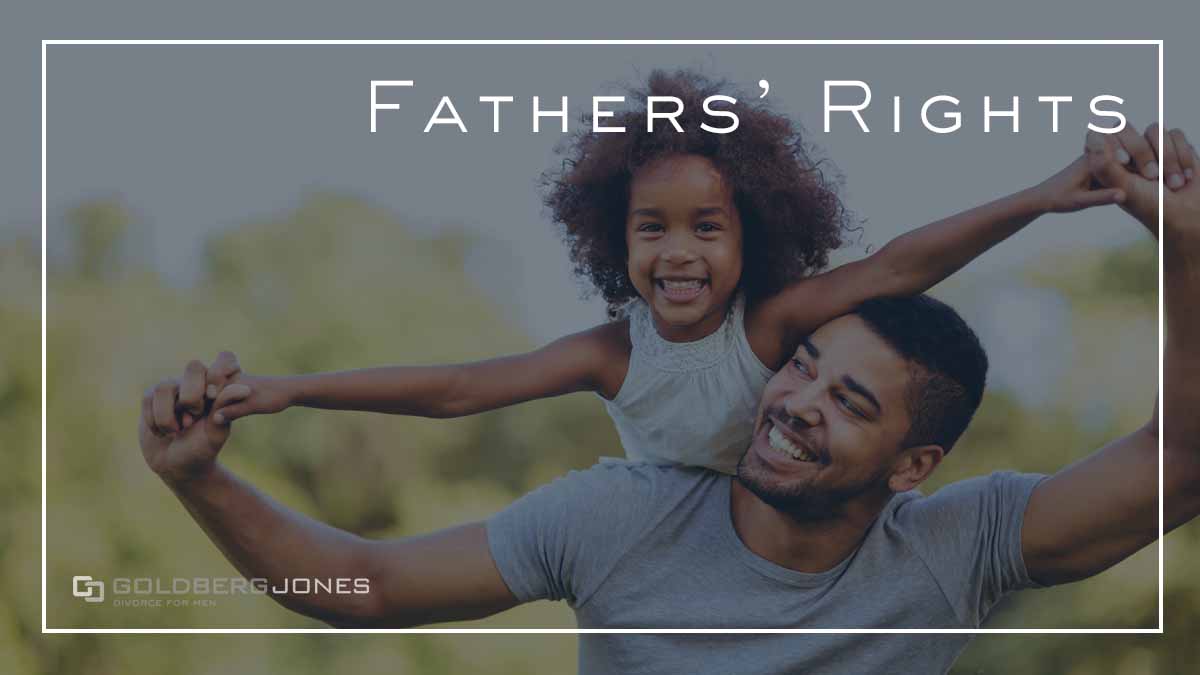 Fathers' Rights
Skip Ahead
What Are A Father's Rights?
How Can You Protect Your Rights?
How Can Goldberg Jones Help?
Men face unique challenges when it comes to family law cases. Our San Diego attorneys understand these struggles and stand committed to protecting fathers' rights through aggressive, effective representation.
The common perception, whether it's right or wrong, is that women have the upper hand when it comes to child custody.
While the laws are not written to favor either gender, there is an undeniable social presumption that often tilts in favor of a mother.
Our firm is committed to overcoming that presumption on behalf of our father clients.
What Are A Father's Rights
Barring extreme circumstances, fathers have the right to remain a part of a child's life on a regular basis and in a meaningful way. In short, both parents are equally entitled to pursue custody.
It's a father's right to request primary guardianship of his children in custody disputes.
If you do become the primary parent, you also have the right to petition the court for child support to help provide for food, clothing, shelter, and other necessities.
You have the right to regular and reasonable visitation.
If the court doesn't grant you custody, you have the right to see your children.
It's your right to be free from interference by the other parent during your visitation time.
How Can You Protect Your Rights?
The California courts have placed an increased emphasis on making sure both parents remain in a child's life after divorce or separation. This is great news for fathers. It's important to participate in your child's upbringing. But you often have to fight to make sure this happens and to protect your rights as a father.
If you want custody of your kids, you have every right to pursue that goal. But it often takes work. You need to prepare and file the appropriate paperwork, provide information to support your claims, and present your case to the court.
When awarding custody, the court's task is to determine the best interests of the child. To establish this, a judge considers many factors. This includes:
parenting ability,
your relationship with your child,
stability,
their physical and emotional health and safety,
and more.
The task is to prove you're the best parent and that the child will be safest and healthiest in your care.
Being involved in your child's life after divorce or separation has a huge impact. It's often difficult to accomplish, but that doesn't make it any less important.
So you're going to have a baby. Congratulations! Becoming a parent is a huge milestone and one of the most rewarding experiences many of us have. Children change your life, but it's important to know your rights as a soon-to-be father.
You and your baby's mother may be married. Then again, maybe not. In 2019, just north of 40% of children born in the U.S. were born to unmarried mothers. This number has increased as couples push back marriage later and later in life, or choose not to tie the know at all.
In family law cases where a married couple has a baby, the legal presumption is that the husband is the father. Outside of marriage, however, this is not the case.
Paternity isn't automatic, and unless it's established, fathers have no legal standing.
PARTICIPATE PRENATAL MEDICAL CARE
Expecting mothers undergo a variety of medical treatments and routine check-ups. Participating in these exams, either financially or physically, often shows a father's dedication. This even helps support paternity claims later on should that need arise.
If the parents agree on the direction of prenatal care, this can progress smoothly. When they don't, however, problems often arise.
If parents clash on medical decisions, the mother's wishes usually take precedence over the father's. Should an unmarried father want to be present at doctor's appointments or in the delivery room, or otherwise participate in prenatal care, he must get consent from the mother.
Related Reading: How Is Paternity Established In California?
What About Adoption?
In California, both parents must consent to give a child up for adoption.
Situations like this illustrate the importance of establishing paternity. Legally recognized fathers have the right to participate in decisions regarding adoption. In cases of unmarried parents where legal paternity isn't recognized, courts may limit your rights as a soon-to-be father.
If you object to a proposed adoption then you have legal recourse and can file objections. However, if your paternity isn't legally recognized, the courts may not take your opinion into account.
How Goldberg Jones Can Help
In-Depth Assessment
No two cases are the same. Ever. Our managing attorney, Zephyr Hill, will assess your situation and explore YOUR legal options. Family law is all we do. Our San Diego-based lawyers provide real answers over the phone at no charge to you.
Experience
Is your case complicated? Do you and your ex have a great deal of conflict? Whatever your situation, we're committed to protecting your rights as a father and will make active, assertive moves to fight for you.
KNOWLEDGEABLE INFORMATION
Laws regulating paternity and other family law matters vary from state to state. It's vital to have an attorney with an in-depth understanding of the specific laws governing your case.
Frequently Asked Questions
---
Have Questions About Divorce?
Phone Questions Answered By Our Managing Attorney For Free!