Thanksgiving is destined to look different for many of us this year thanks to COVID-19. But fear not, we can still indulge in two of our favorite pastimes: eating too much and watching movies.
So you and your pod just polished off a 17-pound turkey, the last bit of cranberry sauce in town, and all the potatoes Idaho produced last year. Football's done for the day. There weren't any parades to gawk at. What do you do now?
As the tryptophan courses through your veins and your body tackles the Herculean task of digestion, physical activity is off the table. Watching a movie sounds just about perfect, doesn't it? And we've got some Thanksgiving specific suggestions.

Planes, Trains and Automobiles
What's not to love about John Hughes working with Steve Martin and John Candy? This mismatched cross-country road trip pairs Martin's fastidious advertising executive with Candy's slovenly traveling salesman. And the result has become a true Thanksgiving classic.

A Charlie Brown Thanksgiving
It may not be a full feature-length motion picture, but what would any holiday be without a visit from Charlie Brown and company? Poor Chuck, he just doesn't get that buttered toast and popcorn are not traditionally found on a Thanksgiving table. But fortunately for everyone's favorite mopey sad-sack, Snoopy and Woodstock have his back.

Rocky
You may not immediately think of Rocky on Thanksgiving—unless your extended family is prone to fisticuffs at holiday gatherings. But as Sylvester Stallone's title character meets Adrian, the love of his life, on Turkey Day, it makes the cut. And hopefully your uncle Paulie doesn't chuck the bird out into the alley. Side note: Rocky 2 also works, as the rematch between Rocky Balboa and Apollo Creed goes down on Thanksgiving.

Spider-Man
As he usually appears in balloon form during the Macy's Parade, Spider-Man already has a connection to Thanksgiving. But if you need more, Sam Raimi's 2002 superhero flick features a Thanksgiving dinner scene where the friendly neighborhood wall crawler's nemesis, Norman Osborn, stops by only for Aunt May to chide him for digging in too early.

Alice's Restaurant
Novels, short stories, and TV shows are all fodder for film adaptations. But you don't often hear about songs being translated to the big screen. Arthur Penn's 1969 Alice's Restaurant is an exception. Taken from star Arlo Guthrie's narrative folk song, the film tells the tale of a Thanksgiving day dump run gone awry.

Grumpy Old Men
Walter Matthau and Jack Lemmon play lifelong neighbors and, most importantly, rivals. This running feud only deepens when the retired TV repairman and former teacher spot their new neighbor (Ann-Margret) and the competition for her affection reignites old hostility. This rivalry involves a particularly contentious, and hilarious, Thanksgiving dinner.

The Big Chill
Holidays and old friends gathering together go hand in hand. Lawrence Kasdan's 1983 The Big Chill may revolve around a funeral, but one of the key shared memories revolves around a flashback to a gluttonous Thanksgiving feast.

Dutch
The holidays are a time when we mend fences and bridge gaps, and 1991's Dutch does both. Ed O'Neill's gruff construction worker must ferry his girlfriend's son from a preppy boarding school in time to make Thanksgiving. A crass comic road trip, it has enough heart to warm the whole family on a chilly fall day.

Miracle on 34th Street
More commonly associated with a different holiday, most people forget this Christmas classic actually kicks off on Thanksgiving. And to be fair, once Thanksgiving is in the books, it's usually a mad dash to the Christmas finish line, so it's never too early to get in a jolly frame of mind. (And this one involves lawyers, so we're all in on Miracle on 34th Street.)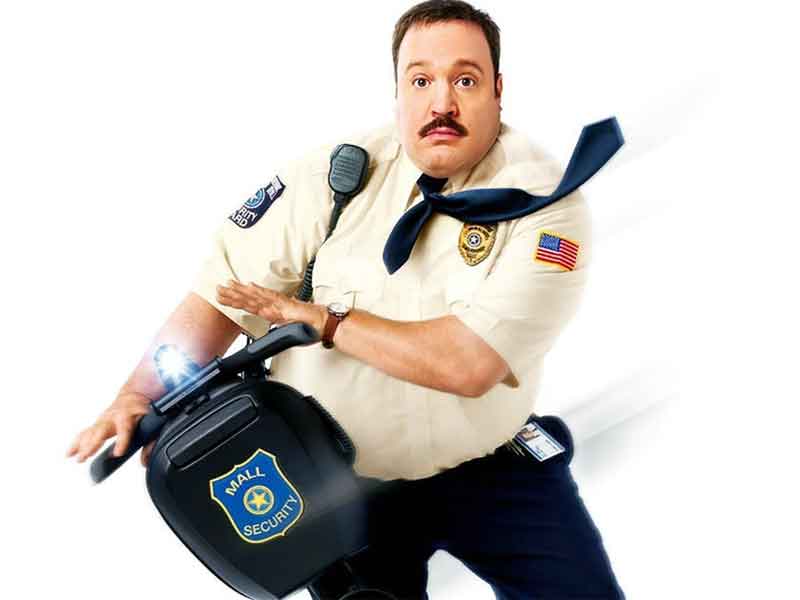 Paul Blart: Mall Cop
As you're stuffed to the gills and on the verge of falling asleep, stimulating psychological fare might be out of the question. Thankfully there's Paul Blart: Mall Cop. More of a Black Friday movie, this will either get you in the mood to brave the early morning shopping throngs or convince you to stay home altogether. Either way, it's a win.
Related Reading: Thanksgiving Survival for Divorced Dads