In 1993, Mrs. Doubtfire was released in theaters and stole the hearts of audiences young and old everywhere. The film stars the funny, charismatic, Robin Williams, who goes undercover as a nanny after his divorce in order to spend more time with his children. It also offers insight into fatherhood and what it means to be a good dad.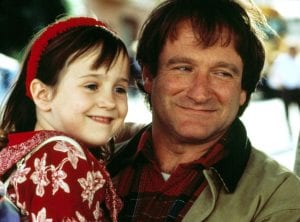 Williams plays Daniel Hillard, a dedicated, goofy father of three. His 14-year marriage with his wife Miranda, played by Sally Field, is on the rocks.
After Daniel loses his job and the couple has a blowout fight, Miranda decides to file for divorce and kicks a devastated Daniel out of the home.* During the first court hearing, Daniel's council barely utters a word in his case for custody.
*Legally, Miranda has no grounds to kick him out of the shared marital home.
Due to Daniel's job loss, and lack of his own place to stay, the judge awards Miranda temporary sole custody. Daniel is granted one visit every Saturday.
To quote the judge:
"Mr. and Mrs. Hillard, although these custody proceedings have always tended to favor the mother, we also realize, perhaps, now, more than ever, that it is not in a child's best interest to deprive him or her of an obviously loving father.

"However, since at the present time, Mr. Hillard has no place to live and no employment, it is the court's ruling to award sole custody to Mrs. Hillard."
Related Reading: 10 baseball Movies for Father's Day
The Aftermath of Divorce
This ruling leaves understandably heartbroken. He has been a constant in his children's lives and has never been away from them for more than one day.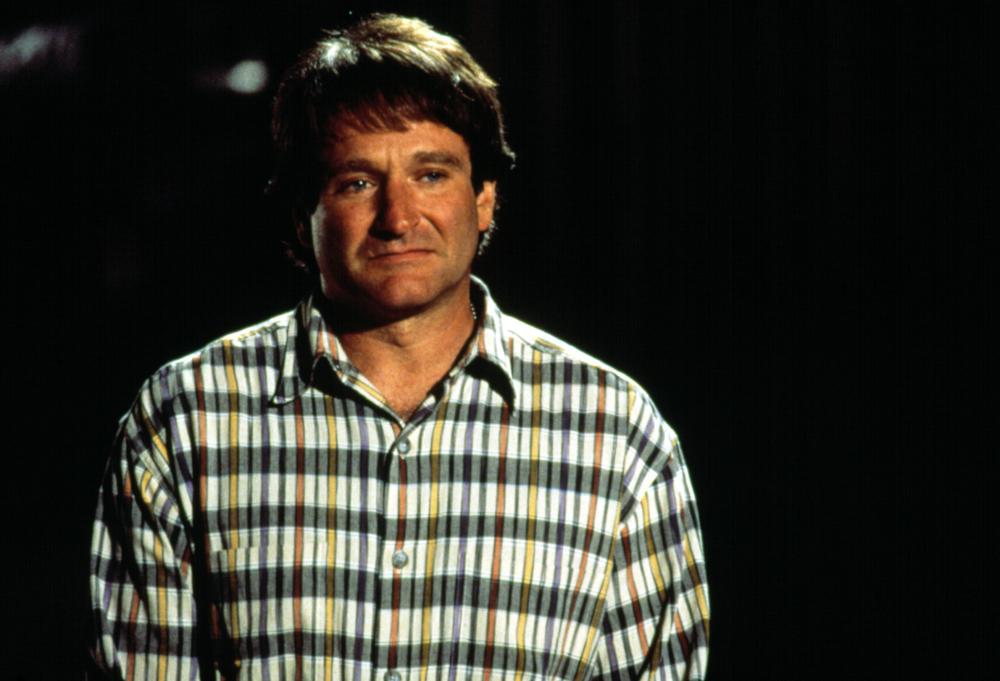 Desperate, Daniel takes matters into his own hands and see's the perfect opportunity when Miranda plans to hire a nanny. As Miranda searches for the right fit, she refuses Daniel and the children's pleas to watch them after school. With no other options, he goes undercover as a British nanny, Mrs. Doubtfire.
A parent's love knows no limits. Like most, Daniel will do absolutely anything for his kids. Even something as ludicrous as dressing up as an elderly, female nanny to spend more time with them. He goes so far as to have a mask created, wear veneers and a bodysuit, and fakes an English accent to complete his transformation.
As the weeks pass, though there are a few bumps in the road, Daniel has major success living life as the infamous Mrs. Doubtfire. It also carries over into his real life as Daniel Hillard. While committed to parenting before, he gains a new appreciation for being present and giving it your all, no matter the task.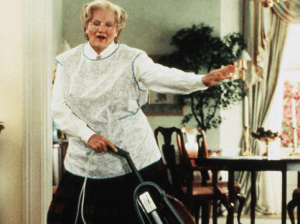 He learns to cook healthy meals, cleans the house, and spends extra time helping his kids with homework. Perhaps his biggest sacrifice of all, he even spends time with Miranda's new boyfriend.
In the end, Daniel gets exposed as Mrs. Doubtfire. When the court reconvenes, Daniel offers this impassioned plea:
"I can only plead insanity, because ever since my children were born, the moment I looked at them, I was crazy about them. And once I held them, I was hooked. I'm addicted to my children, sir. I love them with all my heart, and the idea of someone telling me I can't be with them, I can't see them every day… it's like someone saying I can't have air. I can't live without air, and I can't live without them."
Though the judge recognizes Daniel loves his children, dressing up as an elderly nanny is also a tad… insane. For this reason, the court rules for supervised visitation on Saturdays.
Related Reading: Best Comic Book Dads
Moving Forward
Feeling defeated, Daniel tries to find a way to move forward. He gets a new job, fixes his place up, and, though not as often as he would like, continues to spend time with the kids.
Shortly after, Miranda has a change of heart. She realizes how much happier she and the kids were when Mrs. Doubtfire, aka their father, was in their daily lives. The kids not only want but need both parents present in their lives.
Having grown, she decides to put the feelings of anger and resentment behind her and offer to let Daniel have the kids every day after school. (She clears it with the court first.)
Daniel also chooses to let his bitterness go and move forward with a new attitude. The kids, Daniel, and Miranda all wind up happy with the outcome. Divorce is never easy, especially when kids are involved but once the dust settles one can make way for a new start.
To quote the late Robin Williams as Mrs. Doubtfire:
"You know, some parents, when they're angry, they get along much better when they don't live together. They don't fight all the time, and they can become better people, and much better mummies and daddies for you. And sometimes they get back together.

"And sometimes they don't, dear. And if they don't, don't blame yourself. Just because they don't love each other anymore, doesn't mean they don't love you.

"There are all sorts of different families. Some families have one mommy, some families have one daddy or two families. And some children live with their uncle or aunt. Some live with their grandparents, and some children live with foster parents.

"And some live in separate homes, in separate neighborhoods, in different areas of the country – and they may not see each other for days, weeks, months…even years at a time. But if there's love, dear… those are the ties that bind, and you'll have a family in your heart, forever. All my love to you poppet, you're going to be alright."
We certainly don't endorse dressing up as a British nanny to see your kids more after a divorce. It won't likely end in such a heartwarming fashion. Still, there are definite lessons to learn from Mrs. Doubtfire about fatherhood and being a good dad. Be the best father you can be. Take advantage of the time you do spend with your kids. And perhaps most importantly, put hurt feelings aside and focus on what's best for your children.
Related Reading: 10 Movies For Father's Day
Related Reading: Marijuana and Child Custody: Can I Still Smoke Weed?