A holiday designed to celebrate dads and everything they do for us, Father's Day is almost here. It's an opportunity to remind our dads how grateful we are for everything they do, to commemorate parental bonds, and applaud their influence on our lives.
You can celebrate fathers and fatherhood in countless ways. As it falls on the third Sunday of June, barbecues are always a good option, as are baseball games and other outdoor activities.
We're fond of watching movies with dear old dad, and we've compiled a list of ten great films watch with pop on Father's Day. They run the gamut from stories about the relationships between fathers and their children to movies that almost every dad we've ever met loves.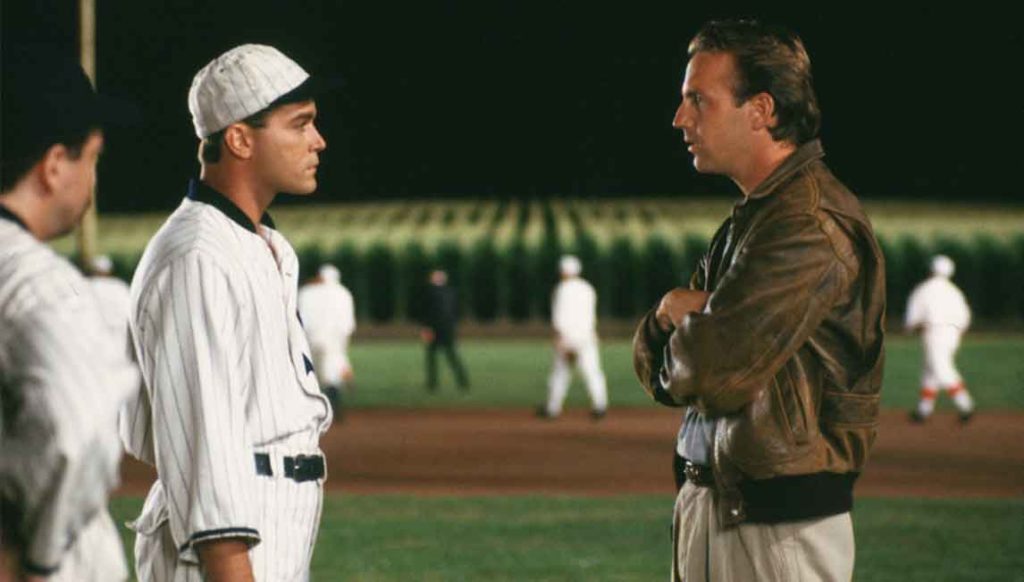 Field Of Dreams
Come on now, what more can you ask for from a movie than baseball, a heartfelt story about fathers and sons, and Kevin Costner at his best? That's exactly what you get in 1989's Field of Dreams. Adapted from W.P. Kinsella's novel of the same name, when Ray Kinsella (Costner), an Iowa farmer, hears wispy voices in his fields, it leads him to plow under his corn, which just so happens to be his cash crop and livelihood, and build a baseball diamond.
What follows is a pseudo-fairy tale that gives Ray the opportunity to reconcile his troubled relationship with his father, something that never happened while the old man was alive. Heavy with sentiment, Field of Dreams balances humor and heart, using baseball as a metaphor for the human condition.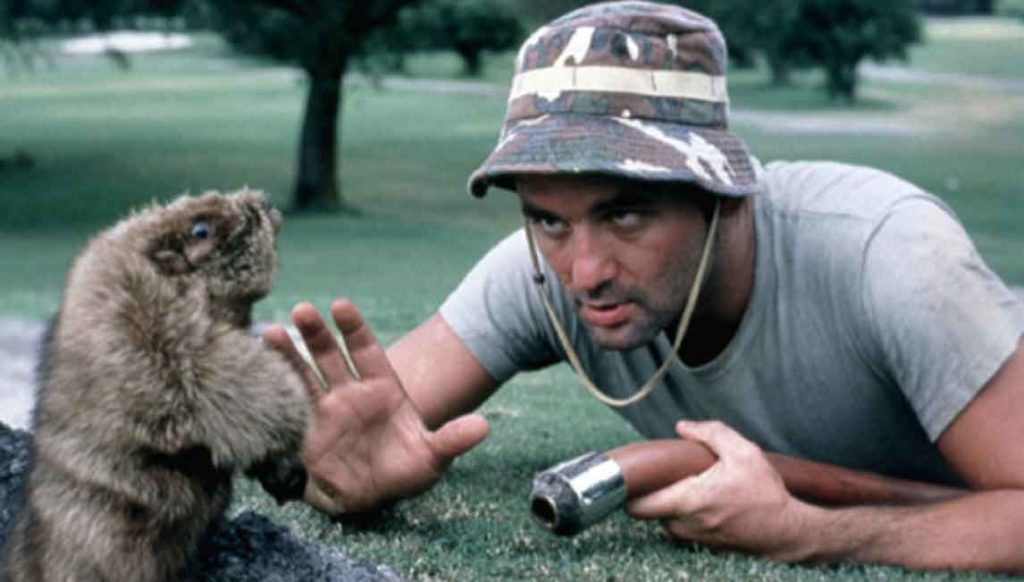 Caddyshack
Admittedly, Harold Ramis' 1980s comedy classic Caddyshack doesn't have much to do with fathers, children, or the relationship between the two. But what dad doesn't love Caddyshack? What father doesn't bust out Bill Murray's Dalai Lama speech at least a couple times a year at family gatherings?
The story of the absurdity that goes on behind the scenes at a posh country club is one of most hilarious, quotable comedies of the modern era, and it features Saturday Night Live vets Murray and Chevy Chase, as well as legends like Rodney Dangerfield, working at the top of their game. It's got that going for it, which is nice.

The Godfather
Fathers and sons can have complicated relationships, and you are not likely to find one more complex anywhere in cinema than in Francis Ford Coppola's 1972 gangster masterpiece, The Godfather. Marlon Brando's Vito Corleone just wants his freethinking son, Michael (Al Pacino), to follow him into the family business.
That's not at all uncommon in movies or in real life. It just so happens that the family business, in this case, is organized crime. A multigenerational criminal saga about family and loyalty, The Godfather was nominated for eleven Academy Awards, has two of America's greatest actors as good as they've ever been, and is widely regarded as one of the best movies of all time. You can do a lot worse on Father's Day.

Finding Nemo
Fathers will do just about anything for their children. This has been fuel for films since day one, and, at least cinematically speaking, it's not a trait exclusive to humans. As illustrated by Disney and Pixar's 2003 Finding Nemo, this also includes animated clown fish voiced by Albert Brooks.
When his son is taken from their home on the Great Barrier Reef, timid Marlin (Brooks) sets out on a dangerous journey across the open ocean to rescue his boy. That's a simple formula, but the movie is anything but. Full of adventure, gorgeously rendered visuals, and engaging and sympathetic characters, Finding Nemo is inventive, engrossing, funny, and full of both humor and heart like few films out there, animated or otherwise. If that's not perfect for Father's Day, what is?

Nebraska
Director Alexander Payne's 2013 Nebraska is a bittersweet comedic drama—or dramatic comedy if you prefer—a quirky, at times heartbreaking look at the troubled relationship between an adult son and his aging, alcoholic father. The estranged pair travel from Nebraska to Montana so the patriarch can claim a dubious million-dollar prize.
Primarily known for his wild comedy, Will Forte delivers a subtle, nuanced performance, and Bruce Dern as his father is no less than stunning, more than earning his Best Actor Oscar nomination. Shot in stark black and white, the color palate and flat, barren landscapes reflect the lives of the characters, and the end result is a powerful story about watching those you love grow old and become fragile.

Mrs. Doubtfire
Again, fathers going to great lengths for their children is a theme on full display in Chris Columbus' 1993 comedy Mrs. Doubtfire. After a bitter divorce that sees him being cut out of the lives of his children, down-on-his-luck actor Daniel Hillard (Robin Williams) disguises himself as a female housekeeper in order to keep an eye on and spend time with his kids.
This movie takes a lot of grief and has been spoofed and parodied all over the place, but at its core, it's an inherently sweet family picture. It can be a bit sappy and light at times, but anchored by a Robin Williams performance that is simultaneously manic, overboard, and genuinely sweet, it's well worth another watch.

Father Of The Bride
Vincent Minnelli's 1950 Father of the Bride is, itself, a fantastic movie and well worth your time—it does star Elizabeth Taylor and Spencer Tracy, and was nominated for multiple Academy Awards, after all. But for the purposes of this list, we're talking about the 1991, Steve Martin-starring remake.
Watching our kids grow up, it's hard to imagine them as independent adults, fully capable of looking after themselves. At the heart of this film is the realization every parent eventually comes to, that our kids no longer need us, that they're just fine on their own.
That's a hard truth that George Banks (Martin) and his wife, Nina (Diane Keaton), have to accept building up to their daughter's wedding. That, of course, is easier said than done, all manner of shenanigans ensue, and the result is delightful.

Indiana Jones And The Last Crusade
If you've ever wished your dad was a heroic adventurer, a peerless intellectual, or just all around cool, Indiana Jones and the Last Crusade is the wish fulfillment movie for you. If your father just so happens to be Sean Connery, even better.
Steven Spielberg's 1989 film, the third in the franchise, sees everyone's favorite archeology professor, Indiana Jones (Harrison Ford), on one last epic quest—at least until Kingdom of the Crystal Skull rolled around. This time, however, things are a bit different as he teams up with his father, Henry (Connery), to find the Holy Grail.
This has everything you want, from exotic locations to fighting Nazis to high adventure where the very fate of the world hangs in the balance. If you can't go on an actual epic quest with your dad on Father's Day, watching this may be the next best thing.

He Got Game
Relationships with fathers can be tricky and fraught with emotion, and few are as tangled as the one between Jake Shuttlesworth (Denzel Washington) and his son, Jesus (NBA star and rookie actor Ray Allen), in Spike Lee's 1998 film, He Got Game. Jake is a convicted felon, serving time for accidentally killing his wife, Jesus' mother, in front of the boy.
The younger Shuttlesworth also happens to be the top high school basketball player in the country. A shady governor grants Jake a temporary parole to convince his son to play for the politician's alma mater in exchange for an early release.
An obvious comment on corruption in politics, sports, and education, the strained, raw father-son relationship forms the center of He Got Game, and two terrific turns from the lead actors help make it one of Lee's most accessible films.

Paper Moon
Not all cinematic father figures are actual biological dads. Such is the case with Peter Bogdanovich's 1973 biological dads. Such is the case with Peter Bogdanovich's 1973 Paper Moon.
Whether or not Ryan O'Neal's Depression-era con man, Moses Pray, is the father of his real-life daughter Tatum O'Neal's young orphan, Addie Loggins, is a question that hangs over the movie. But whether or not there are any real blood ties, their bond is true, and the two form an unlikely partnership.
A sweet and mischievous road movie that follows the mismatched pair, it's also the story of a life-altering journey for both. At 10-years-old, Tatum O'Neal became the youngest Oscar-winner to date for her turn as Addie, and the subsequent estrangement of the father and daughter in the real world adds an especially poignant edge to Paper Moon. And there's hillbilly wrasslin', what's not to love?