Divorce sounds daunting and ominous. Though it can be a relief to dissolve a marriage, divorce is, well, still scary. An uncertain future, complicated forms full of legal speak, arguing back and forth with your spouse, and appearing in court, it's all intimidating. But it doesn't have to be. Come with us as we break down the steps to divorce in California.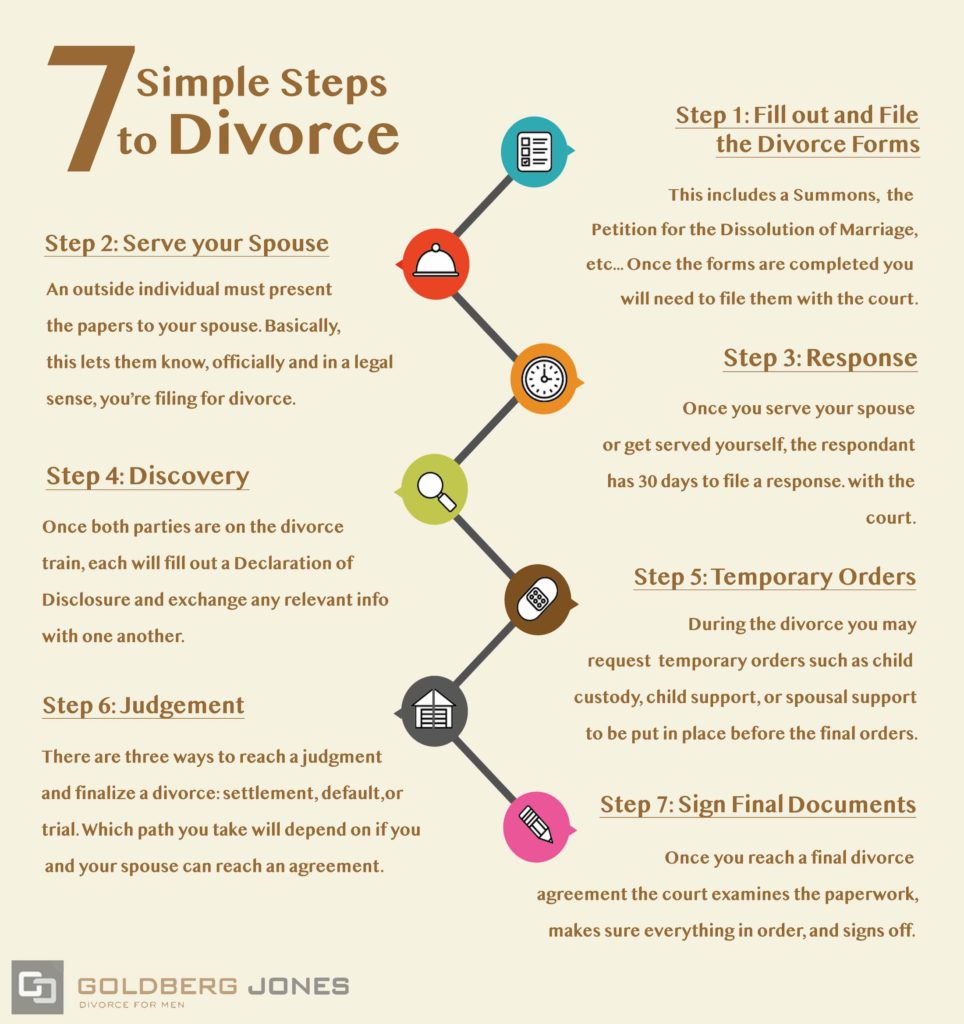 How Do You Get A Divorce In California?
Before you can file for divorce in California, you have to figure out where to file. One party, whether it's you or your spouse, must have lived in the state for at least the previous six months.
On a county level, one of you must also have lived in a particular county for at least three months.
If you and your soon-to-be-ex still live in the same place, this won't likely be an issue. But if, for example, you move out of a shared marital home and relocate to San Diego County from Orange County, you have to settle in for the minimum time before you can file.
The process of dissolving a marriage in California has a few key points worth mentioning:
California Waiting Period
California has a six-month waiting period for all divorces. This is the minimum amount of time to complete a divorce. It is possible to reach an agreement and have documents approved earlier.
The divorce,however, doesn't become final until the waiting period expires.
No-Fault Divorce
California, like most other states, practices no-fault divorce. This means there's no official blame placed on either spouse for the end of the marriage.
You don't need to prove your spouse did anything wrong. And the same applies to you.
You Don't Have to Agree to Divorce
In California, it's not necessary for both spouses to agree to end a marriage.
It's possible for one spouse to initiate things, go through the legal process, and have the divorce finalized even if the other spouse refuses to cooperate or participate.
If a spouse refuses to participate, the case will go to trial and result in a default judgment.
Step 1: Fill Out And File The Divorce Forms
The first person to file divorce papers with the court is called the petitioner. The petitioner needs to fill out specific forms and file them with the clerk. Depending on your situation, the forms vary. [Take a look at the list at the bottom of this post to see some common essential divorce forms.]
The reasons for ending a marriage are often complex and painful, but as for the method, the first steps to divorce involve filling out a bit of paperwork and paying a fee.
In California, the first divorce step revolves around submitting a summons, the petition for the dissolution of marriage, and related forms.
You'll need to provide your personal information and that of your spouse. This includes:
Where you live.
When you married.
The length of the marriage.
Your current living situation.
When filing, you pay a fee to the court clerk. It might be in your best interest to have a divorce attorney take a look at your paperwork beforehand to make sure you filled out everything correctly.
FL-100 – This is the form to begin the divorce process. As the filing party, you list all the pertinent information related to your marriage, including children, dates, and property.
Related Reading: Are Divorce Records Public? Privacy After Divorce
Step 2: Serve Your Spouse
Once you fill out and submit the proper forms to the proper county—the one where you live, not the one where you were married—the next step to divorce is to serve your spouse.
In this divorce step, you present the papers to your spouse and make your intentions known. Basically, this lets them know, officially and in a legal sense, you filed for divorce.
You can't personally serve the divorce papers. An outside individual over the age of 18 must deliver the summons and petition.
This can be anyone who fits the bill, but in most cases, using a registered process server serves your best interest.
FL-110 – This form is the Summons, which lets your spouse know that you've filed.
FL-115 – The Proof of Service of Summons, lets you tell the court that you have notified your spouse.
Step 3: Response
Once you serve your spouse or get served yourself, the respondent has 30 days to file a response.
This takes the form of a formal answer to the petition to dissolve and indicates that the other party plans to participate in the divorce process.
FL-120 – This forms the basis for your soon-to-be ex's response.
Step 4: Discovery
Once both parties are on board the divorce train, your case moves to the discovery phase.
During this step to divorce, both sides fill out a declaration of disclosure and exchange any relevant information with one another.
A community property state, California views all assets acquired during a marriage as equally belonging to both spouses.

This doesn't mean you divide everything down the middle. The court splits property in a way that ensures both parties maintain a lifestyle roughly equivalent to what they experienced during the marriage. That's the goal anyway.
After the 30-day waiting period has passed the petitioner must complete various financial forms. This includes:
After completing these forms the petitioner must serve them to their spouse.
Formal discovery follows the declaration of disclosure. How this looks depends a great deal on the specifics of your case. It may include interrogatories, written questions from spouse to spouse, or requests for documents.
Requests for admissions take the form of written questions asking one party to verify or deny specific information. The parties may even conduct depositions or live question and answer sessions.
Related Reading: What's In A Divorce Decree?
Step 5: Temporary Orders
Over the course of a marriage, lives become intimately entangled. Divorce aims to untangle them, but the process takes time. In this situation, the question of what to do in the meantime often arises.
Who gets the kids while the parents work through the divorce?
If one spouse supports the other financially, what can you do?
Who lives where?
Who pays for what?
This is the step to divorce where you request temporary child custody, child support, spousal support orders, and more.
If one spouse wants immediate orders before finalizing the divorce, he or she can make a request. By filing an Order to Show Cause, the court schedules a hearing to rule on pressing issues that need resolution sooner rather than later.
Both sides testify about why the court should or shouldn't award the requests.
There's no strict divorce step where you must file a request for an order. You can submit them early on in the process when you initially get the ball rolling. In other cases, it may make sense to handle this later. As with so much else, it hinges on the specific needs of your case.
Related Reading: Divorce Discovery Tools
Step 6: Settlement/Negotiation
If you and your spouse are on the same page, divorce can go relatively smoothly. Especially in shorter marriages, ones without children, and those without a lot of shared assets to divide. In amicable divorces, hammering out the details may be a relatively straightforward and simple step to divorce.
That said, reaching a settlement is where things often get messy.
There are three ways to reach a judgment and finalize a divorce: settlement, default, or trial. Which path you follow depends on if your spouse responds and if you can reach an agreement.
Settlement
A settlement happens when both parties agree on the terms of the divorce. This avoids the need for mediation, trial, or other litigation.
Default
A default occurs when your spouse fails to respond to the initial service. When the other party defaults, the case goes to trial where a judgment is obtained and the divorce becomes finalized. It's a longer process with more steps, but that's the gist.
Trial
A trial may become necessary if you and your ex can't come to terms on your own or through mediation. In order to hash out the division of property, custody arrangements, parenting plans, and all the other details of the divorce agreement, you may have to go in front of a judge and state your case.
The court may order a mandatory settlement conference, where both sides meet to settle the case. If both parties can come to terms, it's possible to create a settlement agreement. In these cases, there are no further steps to divorce.
And once the appropriate people sign and submit the appropriate forms, the divorce becomes final six months after service.
If you can't reach a full settlement, the case goes to trial. Both sides present testimony, evidence, and even witnesses, and plead their position with the court. Ultimately, the judge rules on any contested issues. Once a judgment is reached, after the waiting period, your divorce becomes official.
Related Reading: Know Your Parental Rights As A Father
Step 7: Sign The Final Documents
Signing and filing the final documents is just what it sounds like. One of the final steps to divorce, you and your soon-to-be-ex fill out and submit a series of forms.
This includes agreements the two of you reached on the division of assets and debts, child custody, child and spousal support, and any other topics.
When you reach a final divorce agreement—you can do this on your own, with the aid of counsel, or through mediation or trial—the court examines the paperwork, makes sure you have everything in order, and signs off.
Once you complete this step to divorce, and you're at least six months from the original date of service, the dissolution of marriage becomes official.
As every situation has its own unique set of circumstances, the steps of divorce vary from case to case. With no strict formula, each scenario unfolds in its own way, but this should hopefully give you a rough idea of what to expect.
The more conflict, the more you and your spouse argue about, the more complex the divorce process becomes. Children, high-value assets, retirement benefits, and countless other factors muddy the waters.
Even if you take a do-it-yourself approach, it may behoove you to have an attorney look over the forms before filing. This ensures you filled out everything you needed and hit all the proper steps to divorce.
Related Reading: What Is Legal Separation? Why Choose it Over Divorce?
Essential Divorce Forms:
FL-100 – This is the form to begin the divorce process.
FL-110 – Summons.
FL-115 – The Proof of Service of Summons
FL-120 – Ex's response.
Form FL-140 – Declaration of Disclosure
Form FL-150 – Income and Expense Declaration
Form FL-142 – Schedule of Assets and Debts