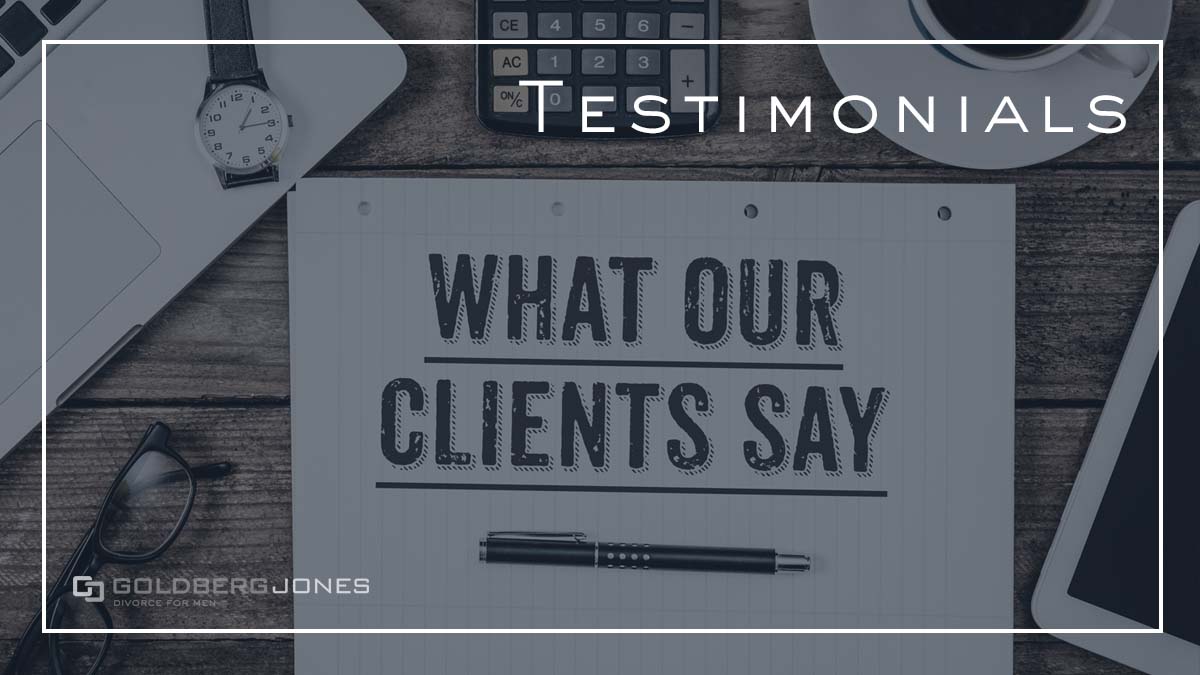 Goldberg Jones Reviews
Client Testimonials
---
I hired Philip Coleman from Goldberg & Jones off and on for several years now. I fully trust him and couldn't have done without his experience and knowledge.

He was extremely understanding of all my issues and was willing to fight for my rights along with giving me sound advice. His unyielding persistence and willingness to fight for my case proved in the outcome of my case.

Along with the administrative staff who was always courteous and professional, the team at Goldberg and Jones is the best in the city for fathers' rights. I highly recommend.
I was fortunate to be assigned to Phil Coleman. He worked on my child custody case for over a year, helped me to navigate the complex legal system, provided exceptional feedback & guidance along the way. Mr. Coleman was easily reached and provided immediate feedback when I would reach out to him.

Mr. Coleman doesn't sugarcoat anything, I appreciate his frankness and how easily he would explain the legal process. This not only reduced my anxiety and stress but also helped me to make sound and rational decisions related to my case.

My children prevailed in the case and now we are to begin a new chapter. Thank you Goldberg Jones & the hard work of Phil Coleman. It is much appreciated.
I recently worked with Richard Kolek for my child custody case and I could not be more impressed with the level of service and support I received. From start to finish, Rich was a strong advocate for me and my children.

He was incredibly knowledgeable about the relevant laws and regulations and was able to guide me through the complex legal process with ease. He was always there and available to answer my questions and provide clear communication throughout the case, which was especially helpful during such a stressful time.

One of the things I appreciated most about working with Rich, was his ability to negotiate skillfully on my behalf. He was able to come to a successful outcome in my child custody case, which was a huge relief for me and my family.

Throughout the case, Rich demonstrated a high level of professionalism and dedication to my case. He went above and beyond to provide support and guidance, and his efforts were greatly appreciated and imperative.

I would highly recommend Richard Kolek to anyone looking for a reliable and effective attorney for their child custody case. He was a pleasure to work with and provided exceptional service throughout the entire process.
Rich is definitely not your stereotypical lawyer – I have never in my 73 years experienced the superb professionalism, stern but fair advice and determination to arrive at a good solution to the problem at hand!!!

I heartily recommend him to anyone who needs a truly exceptional advocate who charges fairly, knows the law and represents his clients to the nth degree. This lawyer is the real deal and I thank him with all of me for his superb representation in my case.!!!
Rich Kolek over the years has been unbelievable in my complicated and contentious divorce. Explaining very step of the way, not easy if you have no idea what you're in for, even after-hours during emergency's he was there!

You need someone who has the time to explain in detail what you need to do to protect yourself and your time with your children, especially if the divorce turns to a contested battle.

The divorce process was not simple for me, but Rich took care of the details, he knows the laws and informs you every step of the way on what you need to do. Without proper representation, you might not get a fair deal under the law when it comes to different issues you will encounter from finances short and long term to parenting time.

Don't send in a third sting Lawer to fight your battle, I highly recommend Rich Kolek if you still want you shorts in the end. Brian Buckmeier Grateful client
Ok let me tell you if you are a man and going through a divorce this is the firm you want in your side, the family court machine will crush you if you do not have a decent lawyer with you, I highly recommend Rich especially if you have kids and you would like to be in their lives, they worth every dollar and they know all the games and trick the other side usually.
After one looooong marriage, I was very nervous as to picking a divorce attorney. I was initially drawn to Goldberg Jones from their radio spots which noted the firm catered to men. After a meeting with a very high-priced La Jolla Divorce attorney, I took consult with G.J. which assigned me to Rich Kolek.

Looking back now, 4 years after the separation and over 2 years post official divorce I am beyond thrilled that Mr. Kolek is my guy. Last year we went back to court to contest the monthly spousal support was too much. Thanks to the hard work of Mr. Kolek we won pretty big and I feel like I can breathe again and that I can actually build a future now.

Rich Kolek is very fair in his billings not to mention that his rates are also very reasonable. The entire staff was always super friendly and the billing dept. were always very polite and accommodating.

I highly endorse Goldberg Jones to any man out there needing good friendly fair counsel for their divorce matters. Clearly I am partial to Attorney Rich Kolek and highly recommend him as well.
I have been through so many lawyers over the last many years for various reasons. Rich Kolek is absolutely amazing!!!!!!!!! I came to him, almost begging for help and I got so much more. His knowledge of the law makes him the best ally anyone can ever have.

He was extremely accessible for the hundreds of questions I had even well into the evening hours. Responding literally in seconds. I am so grateful to him. People, if you're needing the best counsel, I urge you to look no further.
My attorney is Richard Kolek, and Rich has always shown serious dedication to all my child custody matters. If it weren't for Rich, I would probably have no custody at all. He is honest and to the point, he has never ever given me bad advice.

I have recommended Rich to many of my friends and they have all been satisfied with the results of there cases. What we all like about Richard is his honesty and straightforwardness about our cases. I can't put into words how much I appreciate the work that Rich has done for me. Thank you, RICK.
Joseph Waters is an amazing attorney. I was apprehensive, full of anxiety, and needed to know what was happening at every stage of my case.

He showed up with professionalism and accuracy, explaining in detail, what the next step would be. He has the ability to listen, strategize, and take action when needed."
Joseph was clear, helpful, and friendly. He answered all my questions in an easily understandable way. He made a stressful thing very stress-free, which I'm quite thankful for.
So I was looking for divorce attorneys in the San Diego area who were reasonably priced. When I asked friends and family they told me there was no such thing. With that being said, anytime anyone tells you that the "standard rate" or price is a certain amount take them for their word when it comes to attorneys.

I stumbled across Goldberg Jones on the internet and decided to give them a try because unlike some of the other attorneys they gave me a free consultation. I am a father of 4 and an active-duty military. I also pay child support from a marriage prior to this divorce.

I told Mr. Zephyr Hill my story and he told me, in all honesty, the price for a retainer and that it also would not take the whole amount depending on whether we could come to an agreement and not go to trial. My main goal was to avoid trial while not breaking the bank and not drag the process on any longer than what had already transpired.

Zephyr linked me with one of the other Attorneys in the firm who could give me the time and effort needed for my case. From the beginning, I felt like they really wanted to help me out and try not to break the bank without cutting themselves short in the process.

At one point my attorney left the firm but my case was not left by the wayside. Joseph Waters took over my case a few months ago and helped me finally get the divorce finalized.

His attention to detail and personal touch made me feel like I was more than just another client. I would definitely recommend the firm to anyone looking to get their money's worth from their attorney.
I chose Goldberg Jones to help me increase my time with my kids based on their reputation as a firm that specializes in assisting men. And I am so happy that I did!

Over the past several years, Cristina Nuno and Siobhan Curley have listened to my concerns, prepared me for mediation, filed clear and concise declarations and were in frequent communication with me to ensure that I was involved in every step.

They helped me progress from the typical every-other-weekend nightmare to a true 50/50 parenting split and finally to full custody of my kids.

Thoughtful and patient in the office, persistent in the courtroom even in spite of an ex who did everything imaginable to delay things, Cristina Nuno and Siobhan Curley are incredible. Thank you both so much for your guidance and hard work! Highest possible recommendation.
I was a client of Goldberg Jones, with Cristina Nuno as my lawyer. I would like to take this opportunity to tell you what a thoroughly outstanding job she did for me in my child support case. She performed with complete professionalism in the handling of my case.

I would also like to give extra kudos for Cristina. She kept me informed on every aspect of the case from start to finish. She is an outstanding lawyer and a valuable asset for Goldberg Jones. I greatly appreciate and thank you for your sharp eye for having Cristina Nuno as a valued Family separation/divorce attorney. Heidi from San Diego, Ca.
Cristina was amazing! My ex was on her college debate team, I never won an argument with her. But Cristina did. She blew my ex and her attorney out of the water.

Like the ads say, don't just let your ex walk all over you. Fight back with your own "Bad-Ass Attorney" hire Cristina, she will kiss ass!
I am extremely happy with the outcome of my dissolution case, Cristina really cared and worked hard to get the best outcome for my case. I recommend her 100%, for any family services case, they can be confusing and time-consuming, especially when you have a complicated case as I did. Thank you Cristina!
I have recently retired and this greatly reduced my annual earnings. As a result, I needed to find a lawyer to help me in requesting the court for an alimony modification.

Christina represented me. She was friendly yet professional, knowledgeable of the subject matter, attentive to detail, accurate, and most of all very responsive and timely in her dealings with me.

She was able to negotiate a very favorable, yet fair, out-of-court settlement on this issue for me. I would hire her again without a doubt if the need were to arise.
Michael Steiner is the best lawyer I have ever used. My wife's lawyer tried to pull fast one by telling my lawyer we were going to court to set a trail date, then showed up fully prepared with a group of witnesses and demanded the trail occur that day.

Michael with 30 minutes of notice had to take on an entire day long trail on the spot. He discredited every witness she had and made her witnesses fully discredit all of her testimonies.

He then had 2 days to prepare my entire restraining order. He annihilated her lawyer. He is the best cross examiner you have ever seen and his attention to detail is incredible. His closing states seal the deal.

Keep in mind getting a restraining order is an extremely difficult thing to get. He requested a one year restraining order, when he was done the judge issued a two year restraining order, allowed me to keep my dog and allowed me to be the sole occupant of my house. He is the one you are looking for. Like the one you see in the movies.
I am a loyal client of Mike Steiner. He has assisted me on several legal matters, in a very professional and personal Manner of which all have resulted in a very positive outcome.

Mike goes out of the way to stay in touch and make sure I know the progress every step of the way. His confidence level always made me feel good. Highly recommended!!
I have had nothing but a good experience with Goldberg Jones, and specifically Mackenzie Colt. I really felt listened to and advocated for the whole time! Thank you!
I'm highly impressed with the service, diligence and care provided by this law firm, specifically thankful of McKenzie Colt. She was my fiancée's lawyer in a case involving our family. After unsightly instances occurred she did a wonderful job in defending our case and we couldn't be happier with the services she provided, thank you!
I am extremely thankful that I found this law firm & was blessed to have McKenzie Colt help me with my sticky family/custody situation. McKenzie IS a complete Godsend & an answer to my prayers.

She completely understands the importance of being compassionate & ultimately rocks as a person. The commitment to me was inspiring, & I admire lawyers that truly "work" from the heart.

I can't say "Thank You" enough to McKenzie Colt & The Goldberg Jones Law group - sincerely from the bottom of my heart. I am forever greatful to have been taken care of so efficiently. I recommend McKenzie Colt 100% as well as the Goldberg Jones Team. Thanks for everything you've done for my family!
I'm highly impressed with the service, diligence and care provided by this law firm, specifically thankful of McKenzie Colt. She was my fiancée's lawyer in a case involving our family. After unsightly instances occurred she did a wonderful job in defending our case and we couldn't be happier with the services she provided, thank you!
At Goldberg Jones They truly care for their clients. Mackenzie Colt is the most passionate and impressive Lawyer. She is informative & driven, I highly recommend this firm! 5 stars and More!
I had Ralph Santoro represent me to get full custody of kids, my guy went right to work and was always straight to the point. Long story short I got custody and even got refunded some of the retainer!! Highly recommend if you want someone to roll up his sleeves and get the job done.
Having Mr. Santoro advocating for me was the right choice. He is a strong advocate and it makes all the difference. As a father, navigating the family court is tricky and can be perilous, Mr Santoro's experience and tact was indispensable when I needed it most. Thank you Ralph!
Ralph was A GREAT lawyer because he always kept me informed, gave me realistic explanations, was always making sure my well being was good, and helped me advocate situations. how you divorce and who you choose for your divorce lawyer can make a difference.

It is important to find someone that you are comfortable with, whose skills and experience are a good fit for you given your unique situation and goals, and who is someone you trust. I believe that you will find this feeling with Ralph.
Great company, would highly recommend. I worked with Alexis and she made the process as streamlined and easy as it could be. Highly recommend!
Alexis Scott is a competent professional who's work ethic is unparalleled. When you need someone who is knowledgeable, genuine, driven, and dependable, she sets the bar high. Her focus is your best interest and well-being. If she's in your corner, you're in good hands.
Alexis Scott was great at assisting me to win custody of my son. She was able to outline, format, and structure all of my documentation and evidence in such a way the judge didn't have any questions for us. She was a wealth of information when it came to any of my questions.
In the lion's den of divorce and high-tension relationships, Daniel Turek brings a sense of calm and compassion to every situation. He never gets flustered and gives clear advice. Most importantly, he listens.

I've met and worked with so many lawyers that approach a person's situation and treat it like a set of circumstances they've dealt with over and over. Daniel doesn't do that.

He pays close attention to each person he represents, listens to what they need, and provides incredible guidance on how to navigate these tough situations. So glad I've got him in my corner!
From the first contact through the final agreement, your staff was courteous, professional, and sensitive to my family's needs. My experience with Goldberg Jones was a relative highlight during a very difficult time.
From the first contact through the final agreement, your staff was courteous, professional, and sensitive to my family's needs. My experience with Goldberg Jones was a relative highlight during a very difficult time.
I have to tell you after talking to you I will utilize your services as your demeanor and willingness to answer questions through this extremely life-changing event was way above any other attorney I talked to.

Thanks again for your time and willingness to answer questions. It sure makes the process easier when you can get answers to questions and make an informed decision.
This Law Firm made the process easy. Truly putting the best interest of their client as their number one priority. Great staff. Definitely would recommend the law firm to anyone that is going through a divorce.
Zephyr and his firm achieved a particular result for me: more time with my girls. I remain indebted to him each and every day that my girls are with me and I can be a parent.

The ex-wife is making noises about wanting increased child support again, so I expect to be calling on Zephyr again soon!
Managing Attorney Profile