BA Political Science, University of California, Berkeley
JD Georgetown University Law Center
---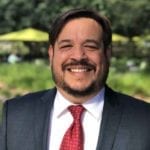 With more than a decade of experience in complex commercial and securities litigation, in addition to family law, Todd S. Hipper brings a unique perspective and skill set to Goldberg Jones. He's a valuable resource and a strong advocate for the husbands and fathers of the San Diego area.
No stranger to the courtroom, Todd uses a mixture of common sense and legal savvy to approach each case. He's fierce and aggressive when necessary, but calm and composed when the situation requires. Professional and prepared, he empathizes with his clients and places their best interests at the forefront of his strategy at all times.
Managing attorney Zephyr Hill says, "Todd is an incisive, thorough attorney with deep compassion for his clients. He truly knows how difficult divorce and custody cases are, but he puts people at ease and they immediately know they're in excellent hands."
Todd received his bachelor's degree in political science from the University of California, Berkeley. Following that achievement, he earned his Juris Doctor from the Georgetown University Law Center in Washington, DC. He is admitted to practice in both California and New York, as well as several federal courts.
When he's not busy fighting for the rights of his clients, Todd spends the bulk of his free time with his daughters and listening to live music. He's also a winemaker and wine enthusiast who enjoys sharing his passion with others.
---
Testimonial
Hello Todd, I wanted to thank you again personally for the great job you did for me. It was a trying and stressful decision to make but one I felt in my heart needed to be made. Several times in the past sixteen years I felt that I would never get a fair break in this matter because of the previous lies my ex had presented to the courts that had allowed her to get the outcome she received.

But thank God and the judge for adding the statement that she needed to someday become self-sufficient and not use the support as a crutch and a burden to me. I appreciate your diligence in this matter and your professionalism throughout. Thank you and your staff again and God Bless.
Have Questions About Divorce?
To Get your Phone Questions Answered at No Charge!