B.A. Anthropology and Political Science, Santa Clara University
J.D. California Western School of Law
---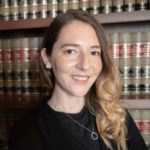 Siobhan Curley works closely with her clients to develop a strategy to help them navigate tricky legal waters and obtain the best possible outcome. She's a valuable resource to the husbands and fathers of the San Diego area in divorce, custody, and other family law cases.
Always wanting to practice in a people-focused area, Siobhan gravitated to family law. Her passion grew out of an internship at the San Diego Volunteer Lawyer Program in the Domestic Violence Restraining Order clinic.
"I feel as legal professionals we are entrusted with a certain skill set and along with that comes a responsibility and drive to help advocate for others," she says. "Family law is an opportunity to help people through one of the most difficult transitions in life. A forthright and conscientious guide through those trying times can truly help facilitate a smoother transition."
Passionate about giving back to her community, Siobhan volunteers her time with numerous charitable organizations. She's worked with Community Law Project and Amnesty International, among others, and received a number of awards and commendations for her service.
Siobhan attended Santa Clara University, where she earned her BS in anthropology, with a minor in political science. From there, she worked her way through law school at the California Western School of Law in San Diego, where she received her Juris Doctor.
Growing up in the Sierra Nevada Mountains near Lake Tahoe, Siobhan was raised to love all things outdoors. She trained as a yoga instructor in India, enjoys live music and hula hooping, and, more than anything, adores spending time with her family, especially her sister, brother-in-law, and her twin niece and nephew.
---
Testimonial:
I reached out to Siobhan Curley for a consultation, the service I received far exceeded any expectations I could have dreamt up! I was not sure if my issue would ever see the light of a courtroom, but I was certainly nervous and completely lost. Siobhan went above and beyond to advise me and make me feel comfortable. Her patience and compassion was a guiding light during a very difficult time. Her knowledge of the law, and careful advice, probably kept me out of the courtroom. Although I did not end up needing to hire council in the end, if the need should ever arise in the future, I would not hesitate to call and retain Miss Curley. Highly recommend this firm, especially Siobhan Curley! Thank you endlessly!!!
– Bmouzoon
Have Questions About Divorce?
To Get your Phone Questions Answered at No Charge!