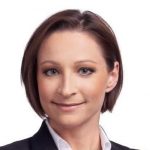 A tough, battle-tested attorney, Nicole G. Saperstein is a strong advocate for her clients and a powerful ally to have by your side in divorce, custody, and other family law cases. A passionate litigator, she's a crucial member of the Goldberg Jones team in San Diego.
Before making the leap to family law full-time, Nicole served as a criminal defense attorney. In her practice, she represented hundreds of clients in cases ranging from misdemeanors to serious felonies.
Equally versed in trial as in more collaborative means to an end, she has a deep, well-rounded skill set. Whatever a case requires, she possesses the tools to succeed and she proceeds with compassion, insight, and expertise.
"As a former criminal defense attorney, I have a passion for providing support to people in their most vulnerable times without judgment," she says. "I love both being in the courtroom when the issue warrants it and resolving without needless litigation when the parties can come together."
Nicole earned her bachelor's degree in psychology with a minor in English from Sierra Nevada College graduating Summa Cum Laude. From there she embarked on her legal journey, earning her Juris Doctor from the University of San Diego School of Law, where she graduated Magna Cum Laude.
Beyond her legal practice, Nicole is a certified yoga instructor. Also an outdoor enthusiast, she is an avid hiker and can often be found riding her snowboard during the winter months.