BA Social Sciences, University of Buffalo
JD Thomas Jefferson School of Law
---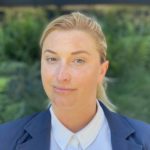 A passionate, dedicated family law attorney, Mackenzie J. Colt is a strong advocate for her clients and a valuable member of the Goldberg Jones team in San Diego.
Compassionate and attentive, Mackenzie's varied legal background prepares her for wherever a case may take her. An adept negotiator, she's equally comfortable hashing out the details of a settlement as representing clients at trial.
A number of factors draw Mackenzie to family law. She says, "First, I believe, as a family law attorney, my actions have the most direct impact on a client's life. There is nothing more important than our familial relationships. Especially to our children."
Continuing, she adds, "I also love the connection with my clients. I am excited to fight on their behalf for the best possible outcome. It's extremely fulfilling to see my clients happy with their results."
Talking about Mackenzie, managing attorney, Zephyr Hill, says, "Mackenzie is a kind, earnest attorney who cares deeply about her clients. She immediately puts them at ease and keeps their best interests at the forefront at all times."
Mackenzie received her bachelor's degree in social sciences from the University of Buffalo. Following that achievement, she earned her Juris Doctor from the Thomas Jefferson School of Law here in San Diego, where she has practiced ever since.
When not fighting for the rights of those she represents, Mackenzie spends as much time as possible with her own loved ones. Outside of work, she can also often be found playing music, working out, or cooking healthy food at home.
Client Reviews
At Goldberg Jones They truly care for their clients. Mackenzie Colt is the most passionate and impressive Lawyer. She is informative & driven, I highly recommend this firm! 5 stars and More!

– Chantel M.
After talking with her and getting advice, she was very passionate in her craft and considers it an art form of what she does, thus making me fully trust in her.

I trust Mackenzie. She has always given me great advice and consultation.

Mackenzie is amazing. She is professional, responsive, knowledgeable, and extremely helpful. She helped me with a domestic issue, and I am so grateful for her and her council.

-Christina R.
After the phone consult, I had a very comfortable & confident feeling about doing business with Mackenzie because she took the time to answer all my questions very thoroughly; she was patient, and professional. It seems like she's a "go getter" and is willing to actually to the work. I recommend calling to check her out..

-Kimmie
Mackenzie is superb! She has excellent people skills, she gets back to me very quickly, and above all else, she knows the work inside and out. I really appreciate her attention to detail and concern for my situation. A gem of a lawyer you can rely on indeed!

-Tami E.
Mackenzie is thoughtful, knowledgeable, accessible, and genuine in her passion for justice and law. I couldn't recommend her more.

– Aaron T.
Mackenzie gave me solid legal advice when I really needed it. She listened to my situation, made sure she understood the circumstances. Then she explained everything thoroughly, which made me feel really comfortable and confident in what she had to say. She clearly knows what she's doing. She'll be my first call if I need legal help in the future!

-Ayo E.
Mackenzie has been patient, dedicated, determined, steadfast, and understanding. She has walked me through some really scary situations while being out of state and helped to keep us safe… She is intelligent, insightful, and compassionate.

I can't imagine going through this with another attorney, nor would I want to. I do not have enough words to thank Mackenzie for all the ways she has fought for us, represented us, and worked toward the best outcome for my kids and myself.
– Krista
Have Questions About Divorce?
Phone Questions Answered By Our Managing Attorney For Free!